No time of the year seems more fitting to launch an inaugural blog about the most famous necropolis in the world than on All Souls Day, November 2.
Autumn marks a significant transformation in nature that echoes a similar transition occurring in the cemetery. The green, red, yellow, and orange foliage from thousands of trees in Père Lachaise (including maple, acacia, beech, ash lemon, and chestnut) signals the end of a growth period and a new season of hibernation and sleep.

During my visits at this time of year, these vivid colors pose a stark contrast throughout the cemetery with its somber black iron railings and gray mausoleums. And yet the cemetery in its own way comes to life. On days preceding this important holy day set aside for honoring the dead, I've witnessed a steady procession of friends and family members who arrive with water buckets, flowering plants, and cleaning materials. Many gravesites, ordinarily unkempt, soon become highly polished, and are festooned with ceramic wreaths, ribbon bunting, floral garlands, votive lights, and personal offerings.
In addition, over the subsequent days, family, fans, and tourists gather in droves to pay respects at the shrines of luminaries and commoners alike. My colleague, British photographer Joe Cornish, captured this image of Polish composer Frédéric Chopin's highly popular tomb taken at dusk.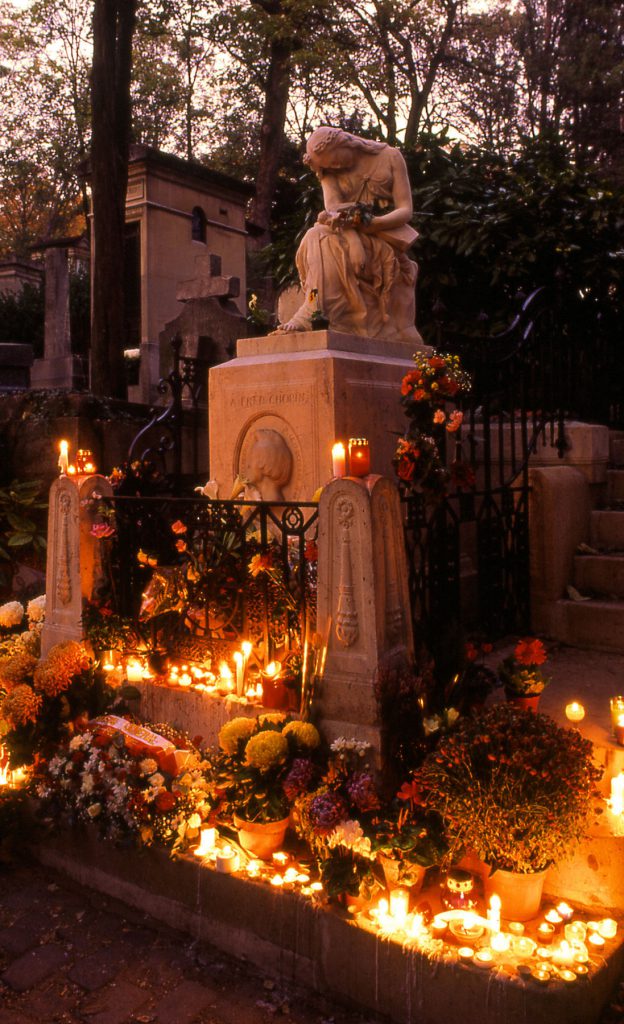 It is not always a somber time, however. Though Halloween (October 31) isn't part of French culture, the influence of American expats in Paris has indoctrinated a few bar owners, who host annual ghoulish-themed parties. One year, I invited several friends to join me at a Tex Mex restaurant in the 6th arrondissement. Our goal was to surprise our new friend, Patrick Bracco (pictured below), head of the French Bureau of Historic Monuments, who oversaw the preservation of tombs in Père Lachaise during the 1980s. We created hand-made masks of colored construction paper (I am pictured wearing mine), then presented Patrick with the one he proudly wore, which, of course, was the grandest of them all.