Coming in Summer of 2018!
---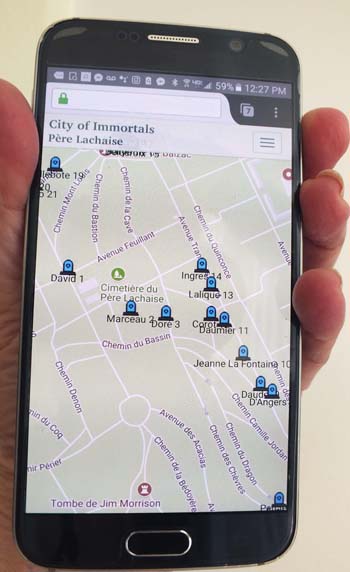 This web-based GPS tour will be available this summer. The three custom tours of Père Lachaise Cemetery can be viewed on your smartphone, tablet or from the comfort of your home computer or laptop by accessing the browser-based app using your personal login and password. The GPS tour is activated when you arrive at the cemetery in Paris.
Tour Descriptions:
In addition to the history of the cemetery and background on the designs of the 19th century funerary art and architecture, when you click on one of the three tours, you can select the grave you wish to visit and an image of the individual's tombstone and a short bio will appear on your screen. The GPS icon representing your location will lead you to your destination.
Tour One features a total of 27 historical gravesites, including the following:
Sidonie-Gabrielle Colette (January 28, 1873 – August 3, 1954). Colette was one of the leading literary figures in France and the author of dozens of books such as Chéri, La Naissance du Jour and GiGi, which was made into a film starring Maurice Chevalier, Louis Jordan and Leslie Caron.
Gioacchino Rossini (February 29, 1792 – November 13, 1868). The remains of the composer who wrote one of the world's most popular operas, The Barber of Seville, are no longer in the chapel-style tomb. His body was moved to Florence, Italy, in 1887.
Théodore Géricault (September 26, 1791 –January 26, 1824) This French painter, one of the leaders of the Romantic Movement is best known for his monumental artwork, The Raft of the Medusa that is in the collection of The Louvre museum.
Luigi Cherubuni ( September 8, 1760 – March 15, 1842) This opera and sacred music composer is best known for Médée which he wrote in 1797. His tomb was designed by the architect Achille Leclère and includes a work by sculptor Augustine Dumont representing "Music" crowning a bust of the composer with a wreath.
Frédéric Chopin (March 1, 1810 – October 17, 1849) German composer Robert Schumann said that Chopin's playing was like "canons buried in flowers," as well as with Chopin's close friend, the artist Eugène Delacroix, who called his music "nourishment for the soul." He was in high demand in the leading Paris salons since nothing had ever been heard like him before.
Vincenzo Bellini (November 3, 1801 –September 23, 1835) The quintessential composer of the Italian bel canto opera. One of his greatest works is Norma. When you visit his grave, look at the side of his tomb, the titles of all his works are inscribed there.
Jim Morrison (December 8, 1943 – July 3, 1971) Legendary singer, songwriter, poet and member of The Doors, Morrison loved Paris but, shortly after moving there in 1971, fell back into drugs and alcohol and died in a hotel on the Right Bank. However, his passing in the City of Light qualified him to be buried in the famed cemetery.
Rosa Bonheur (March 16, 1822 –May 25, 1899) Bonheur was the most famous woman painter of the 19th century and the first renowned painter of animals; one of her best-known works, The Horse Fair, hangs in the Metropolitan Museum of Art in New York. Bonheur lived with a lifelong friend Natalie Micas, and later Anna Klumke, her life partner. The three are buried together in a plot Bonheur purchased in Père Lachaise.
Camille Pissaro (July 10, 1830 –November 13, 1903) This revolutionary and innovative painter of landscapes, rural French life, and urban France was known as one of the leaders of French Impressionism. Among the artists that he mentored was Paul Cézanne with whom he worked closely for several decades.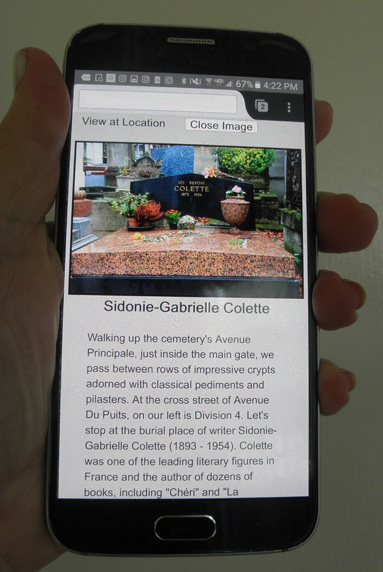 Tour Two includes the tombs of 34 luminaries including the following:
Honoré de Balzac (May 20, 1799 – August 18, 1850) The novelist and playwright created the unforgettable masterpice, La Comedie Humaine; a collection of 100 linked stories and novels. Through the lives of more than 2000 characters, he told the story of 19th century France — in essence, the history of modernity.
Gustave Caillebotte (August 19, 1848 – February 21, 1894) The artist's painterly style belongs to the School of Realism and he was strongly influenced by his Impressionist associates, including Edgar Degas. With a substantial inheritance he received after the death of his father, he became a patron of the arts through funding exhibitions and buying artworks from colleagues such as Camille Pissarro who is also buried in Père Lachaise.
Camille Corot (July 16, 1796 – February 22, 1875) A Paris-born artist and painter, he was member of the French Barbizon School. His landscapes are most recognizable for their dark palate and they sold well enabling him to live a comfortable life. His admiration from French society in being awarded the Legion of Honor was only surpassed by his generosity to fellow artists. For example, he bought a house in Auvers as a gift for Honoré Daumier, who went blind in his later years.
Honoré Daumier (February 26, 1808 – February 10, 1879) A prolific painter, sculptor and printmaker, he was best known for his caricatures of political figures. Generally, King Louis-Phillipe tolerated the artist's creative attacks, but once he went too far and the King sentenced him to six months in prison. Daumier's works are found in many of the world's leading art museums, including the Louvre, the Metropolitan Museum of Art and the Rijksmuseum.
Eugène Delacroix (April 26, 1798 –August 13, 1863) ). A key figure in 19th century Paris, he was considered the leader of the French Romantic school. One of his mentors, Théodore Géricault inspired him to create heroic paintings of historic subjects. Probably Delacroix's best-known painting, Liberty Leading the People is an unforgettable image of Parisians during the French Revolution having taken up arms marching forward under the banner of the tricolour representing liberty, equality, and fraternity.
Jean-Auguste Ingres (August 29, 1780 –January 14, 1867) An artist, painter, he was a member of the French neoclassical school. As a young man, he was admitted to the painting department of the École des Beaux-Arts where he later became a member of the esteemed faculty. In his 20s, he won the Prix de Rome, went on to be known for masterful portraits, and garnered accolades throughout his long career.
La Fontaine (July 8, 1621 –April 13, 1695) The writer and poet was admitted to the French Academy at age 60. His most popular works were twelve books called Fables. He was part of the barter of famous remains along with Moliere that was moved to Père Lachaise in 1804. The two are interred side by side in sarcophagus-style tombs.
René Lalique (April 6, 1860– May 1, 1945) This French glass designer worked with such storied jewelers as Cartier and Boucheron. He became noted for his work in the Art Deco style as well as one of France's foremost Art Nouveau jewelry designers. Best known for his glass art, his lighted glass and elegant colored glass columns filled the dining room and "grand salon" of the SS Normandie.
Marcel Marceau (March 22,1923 –September 22, 2007) The actor, mime was named an Officer of the Legion of Honor by the French government in 1999. Marceau was one of the most popular entertainers of the 20th century and he actively performed, most notably as the character "Bip," until his death.
Georges Méliès (December 8, 1861 – January 21, 1938). Méliès created many film firsts, including double exposures and the first split screen with performers acting opposite themselves. He produced over 500 films and was presented the Legion of Honor from the French government. His career was reignited in Martin Scorsese's award-winning film Hugo starring Ben Kingsley as the remarkable magician and illusionist who became one of cinema's earliest and most innovative directors.
Moliere (January 15, 1622 –February 17, 1673) A French playwright and actor who is considered to be one of the greatest masters of comedy in Western literature. Among Molière's best known works are The Misanthrope, The School for Wives, and Tartuffe. He was not originally buried in Père Lachaise. His remains were moved to the cemetery along with La Fontaine to create a draw for the Paris populace to be buried there when the cemetery opened in 1804.
Felix Nadar ( April 6, 1820 – March 20, 1910) One of the most highly regarded photographers of the 19th century, he numbered among his friends, who were also his portrait subjects, some of most significant cultural figures of the era, including Sarah Bernhardt, Gustave Doré, Gérard de Nerval, Honoré Daumier and Eugène Delacroix, all of whom are buried in Père Lachaise.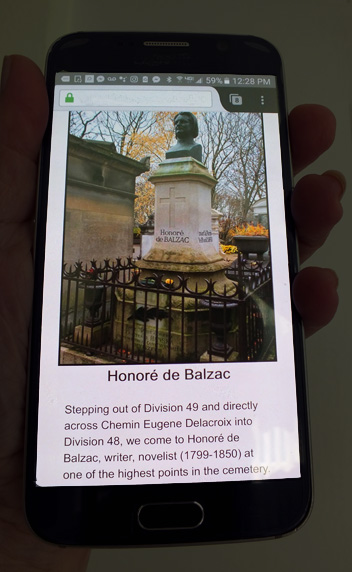 Tour Three is the final resting place for 24 paragons of cultural history including:
Guillaume Appolinaire (August 26, 1880 –November 9, 1918) The poet, novelist, dramatist, art critic is buried along with his wife Jacqueline Kolb in a grave in Père Lachaise marked by a headstone in the shape of a freeform stele. It is inscribed with one of his classic "calligrams" or poems in the shape of an image – in this case a heart. It reads, "My heart is like an everlasting fire." A champion of the avant-garde in early 20th century Paris, he is believed to have coined the term surrealist.
Sarah Bernhardt (October 22, 1844 –March 26, 1923) The acclaimed French actress of the Comédie Française performed a wide range of theatrical works from Shakespeare's Hamlet to film roles in early 20th century motion pictures. Lady Sarah designed her own burial place in Père Lachaise, which features a small granite casket seen through four arches of a four-foot-high tomb. Her funeral was an extravaganza with beautiful horses drawing a polished lacquer carriage decorated with black ostrich plumes. The respectful funeral procession stretched for blocks in all directions and the crowds left massive tributes of fragrant red roses for France's leading lady of the theater.
Maria Callas (December 2, 1923 – September 16, 1977) More than 300 books have been written about this American-born Greek dramatic soprano. Her influence has been so enduring that in 2006, Opera News wrote of her, "Nearly thirty years after her death, she's still the definition of the diva as artist—and still one of classical music's best-selling vocalists." In 2007, Callas was posthumously awarded the Grammy Lifetime Achievement Award. In the same year, she was voted the greatest soprano of all time by BBC Music Magazine.
Isadora Duncan (May 26, 1877– September 14, 1927) This unconventional dancer was strongly influenced by mythology and always favored a signature diaphanous Greek-style tunic when she danced. She made her professional debut in Chicago but spent most of her career performing her improvisational, modern style of movement in Europe, giving solo recitals or dancing with groups of children she had trained (she founded three schools).
Paul Éluard (December 14, 1895 – November 18, 1952) Considered a leading 20th century poet in France, he was a founder of Surrealism. Among his friends were André Breton, Louis Aragon, Man Ray and Max Ernst; the latter were well-known surrealist artists. A collection of poems, which Éluard described as his last, was titled "Mourir de ne pas Mourir" ("Dying of Not Dying"), and the frontispiece was a portrait of Éluard by Ernst.
Max Ernst (April 2, 1891 – April 1, 1976) Born in Germany, this prolific creator of paintings, sculptures, graphics and poetry is considered one of the early pioneers of the Dada and Surrealist movements. His artworks reflect a mining of folklore and mythology involving animals, as well as images of biomorphic and imagined beings. Beginning in the 1950s, the major American patrons John and Dominique de Menil, who had briefly met the artist in 1934, began a lifelong commitment to his work. The Menil Collection in Houston, Texas, has acquired the largest public holdings of Ernst's art in the world, much of which has been circulated internationally.
Sādegh Hedāyat (February 17, 1903 – April 9, 1951) Iran's foremost modern writer, he is credited with bringing modern Persian literature to the attention of the international mainstream audience. However, he also brought on himself the wrath of the Iranian monarchy and the clergy when he wrote fiery attacks describing their societal abuses. His important novel The Blind Owl, which contains a great deal of Hindu and Buddhist imagery, was praised by many including Henry Miller and André Breton.
Marie Laurencin (October 31, 1883 – June 8, 1956) Known as one of the few female Cubist painters along with Sonia Delaunay, Laurencin was an important figure in the Parisian avant garde that included Pablo Picasso and Georges Braque. Braque introduced her to Picasso's circle where she met the poet, art critic and promoter Guillaume Appollinaire, who became her lover. She also became his muse and he, in turn, championed her artwork, which included drawings, paintings, prints and watercolors many times representing groups of women and female portraits.
Amedeo Modigliani (July 12, 1884 – January 24, 1920) "Modi" as his was known in the Bohemian circles of Paris, loved women and many of his friends, as well as lovers became his models. Richly colored portraits of elongated female figures and graceful heads carved in stone are among the most recognizable works in modern art. However, most of his life he suffered from poor health and poverty. He died at age 35 of tubercular meningitis. Sculptor Moise Kisling made the funeral arrangements for Modigliani. The funeral procession included many of his friends and admirers such as Max Jacob, Constantin Brancusi, Andre Derain, Jacques Lipchitz, Pablo Picasso, Ferdinand Leger, Suzanne Valadon, and Maurice Vlaminck.
Edith Piaf (December 19, 1915 – October 10, 1963) Piaf's burial had all the pomp and circumstance of a state funeral. The crowds were enormous and many were moved to tears for the beloved chantuese, singer, songwriter and actress. She is interred in a low black marble tomb with a matching vase embossed with the initials EP in gold. On the feast of All Souls' Day, November 2, Piaf's tomb is one of the most highly visited in the cemetery, and the heaps of floral bouquets reflect the passion her fans still carry for one of the greatest performers of all time.
Marcel Proust (July 10, 1871 – November 18, 1922) The writer is buried in a low, sleek black marble tomb along with his mother, father and brother. A child of a bourgeois family, as an adult he drew on Parisian fashionable society as the subject matter for his writing. He was a master of analogies and metaphors and focused on the themes of love and egoism and a preoccupation with time and death. A study in contrasts, he sometimes created heterosexual lead characters that eventually were either bisexual or came out as gay in the end. He himself wrestled with his identity and lived in fear that his own homosexuality would adversely affect the public's acceptance of his work.
Gertrude Stein (February 3, 1874 – July 27, 1946) The American novelist, poet, playwright, and art collector's apartment on 27 rue de Fleurus was the location of one of the most famous Parisian salons. However, Stein chose to write on those Saturday evenings, so it was her life partner Alice B. Toklas that acted as hostess to the attending icons of literature and art, including Pablo Picasso, Ernest Hemingway, F. Scott Fitzgerald, Sinclair Lewis, Ezra Pound, Francis Picabia, and Henri Matisse. Stein and Toklas are interred together in Père Lachaise.
Oscar Wilde (October 16, 1854 – November 30, 1900) The tomb of this brilliant essayist, eminent playwright, poet and society wit in Père Lachaise Cemetery was designed by American sculptor Sir Jacob Epstein. Throughout the 1990s, the tomb became covered in lipstick kisses that were slowly destroying the porous limestone with each cleaning. The French and Irish governments came together and created a fund to restore the tomb which is now behind a protective Plexiglas casing.
Richard Wright (September 4, 1908 – November 28, 1960) Born on a Mississippi plantation, the work of this distinguished African-American author dealt with the profound insights and aspirations of the oppressed – poverty, anger, and the injustices toward northern and southern urban black Americans. In his 1945 bestselling autobiography Black Boy, Wright acknowledged other writers who influenced him, including Gertrude Stein, Marcel Proust, H.L. Mencken and Sinclair Lewis. He moved to Paris in 1946 and became a French citizen in 1947. He counted among his friends Jean-Paul Sartre and Albert Camus as well as his fellow expatriates Chester Himes and James Baldwin.