City of Immortals: Père-Lachaise Cemetery, Paris

By Carolyn Campbell
Published by Goff Books: October 2019
#1 Hot New Release on Amazon, and #2 on L.A. Times Bestseller List for Non-Fiction
New, unpublished material and a comprehensive map celebrate the rich, beautiful history of the world's most famous cemetery, and provide an insider's guide to the legendary Parisian necropolis and tourist destination.
---
About the Book
The most famous and most visited cemetery in the world, Père-Lachaise is a 107-acre labyrinth housing an eternal "salon" of luminaries from the worlds of art, design, literature, the performing arts, and more. Famed as the final resting place of more celebrated artists, and thinkers than any other location in the world, the cemetery has, in the last century, also become a pilgrimage site for visitors from all over the world to pay their respects.
It is also a magnificent open-air museum of sculpture and architecture, representing the first revolutionary design in memorial parks and one of the most popular destinations for the 65 million tourists who visit Paris each year.
This first-person account of the legendary necropolis will delight Francophiles, tourists, and armchair travelers alike, while enriching the experience of taphophiles (cemetery lovers) and aficionados of art and architecture, mystery, and romance. Carolyn Campbell's evocative images are complemented by those of renowned landscape photographer Joe Cornish.
City of Immortals celebrates the novelty and eccentricity of Père-Lachaise Cemetery through the engrossing story of the history of the site established by Napoleonic decree in 1804, along with portraits of the last moments of the cultural icons buried within its walls. In addition to several "conversations" with some of the more high-profile residents, three guided tours are provided along with an illustrated pull-out map featuring the grave sites of 84 architects, artists, writers, musicians, dancers, filmmakers, and actors, including Oscar Wilde, Jim Morrison of The Doors, Frédéric Chopin, Georges Bizet, Edith Piaf, Maria Callas, Isadora Duncan, Eugène Delacroix, Gertrude Stein, Amedeo Modigliani, Sarah Bernhardt, Simone Signoret, Colette, and Marcel Proust, among others.
About the Author
Writer and photographer Carolyn Campbell is a native of Washington, D.C., has lived in Paris, and is now a resident of Los Angeles. A published author and exhibited photographer, her fascination with Père-Lachaise was kindled on a first visit to Paris in the early 1980s. With the support and encouragement of her mentor, John Russell—the late New York Times art critic—she embarked on her research and photo documentation of the world-famous cemetery. A summa cum laude graduate of the Maryland Institute College of Art, she has been working as an arts and communications specialist for over 30 years. She has held executive positions with the Corcoran Gallery of Art, the American Film Institute and the UCLA School of the Arts and Architecture.
About the Contributing Photographer
Joe Cornish is based in the U.K. and has shot travel, cultural, and landscape subjects for 36 years. Since his first photographic explorations in Père-Lachaise Cemetery with Carolyn Campbell in 1982, he has contributed to numerous travel books as well as writing his own on landscape photography. An Honorary Fellow of the Royal Photographic Society (RPS), he is now Chair of the RPS Fellowship Board.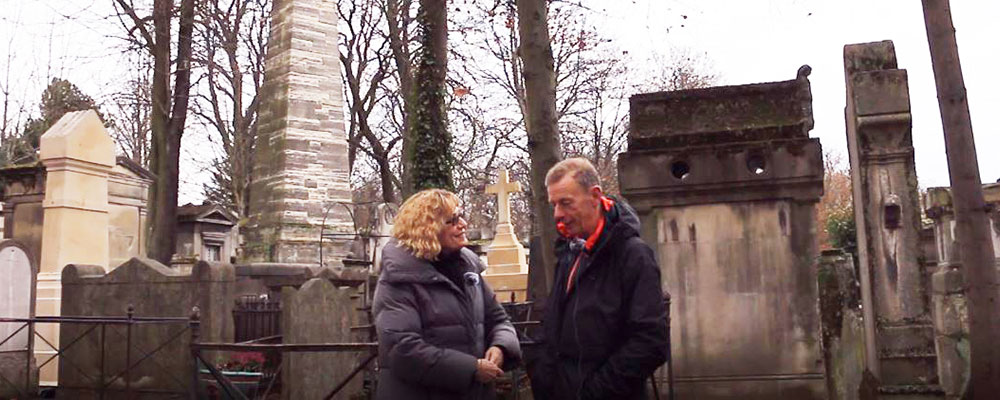 ---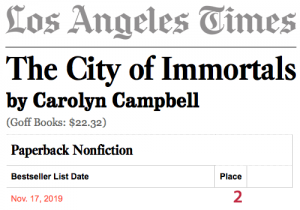 Within the first two weeks of its publication, City of Immortals was #2 on the Bestseller List for Non-Fiction Paperbacks with the Los Angeles Times; #1 Hot New Release on Amazon; and #1 Bestseller for Paperback Non-Fiction with Book Soup and Vroman's.
It is available in bookstores across the United States, the UK, and in Paris, France.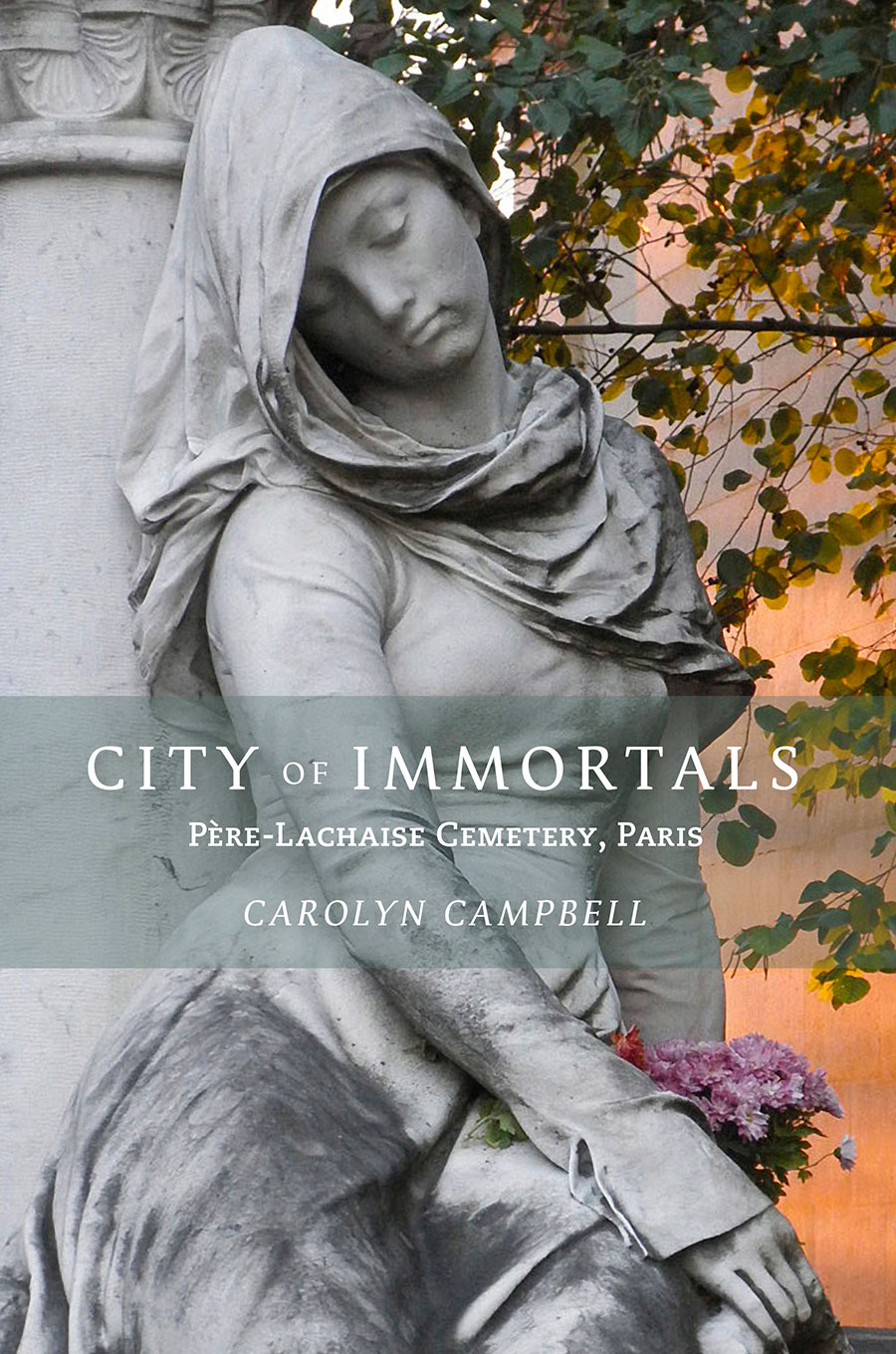 Order the book at…


Book Details
Publisher: Goff Books
ISBN: 978-1-943532-29-2
Dimensions: 6″ × 9″ (portrait)
Pages: 200 pp. + pull-out map (16″ × 18″)
Binding: Soft Bound
Publication Date: Fall 2019
For More Info: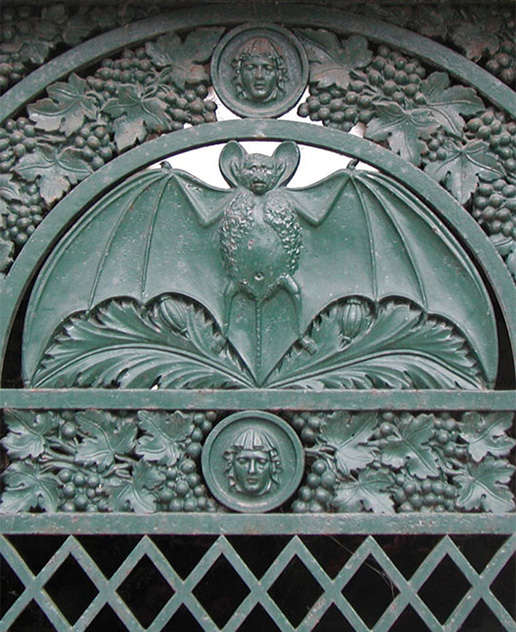 I seldom go out, but when I feel myself flagging I go out and cheer myself up in Père-Lachaise…while seeking out the dead I see nothing but the living.
Honoré de Balzac
Excerpt from Chapter One
Imagine it's the year 1780 in Paris, and you're sitting down with family and friends to a modest meal. Things are bleak due to a series of poor harvests in the area, which has led to soaring bread prices and food riots. Though the times are stressful, France is a country where eating is a pleasure rather than just a means to give the body nourishment, so the group is grateful for what they have, including one another. Dinner is interrupted by a deafening roar as the neighboring cellar wall of the cimetière des innocents collapses, spilling an avalanche of 2,000 corpses into your apartment building.
Centuries of war and plague had already filled the catacombs and church graveyards—the traditional burial places operated by the church—creating a massive historical mulch in places like the cimetière des innocents. The eighteenth-century Parisian engineers had overlooked one significant question in their urban design scheme—what to do with the ever-increasing population of the dead? This is where our story begins.…
Table of Contents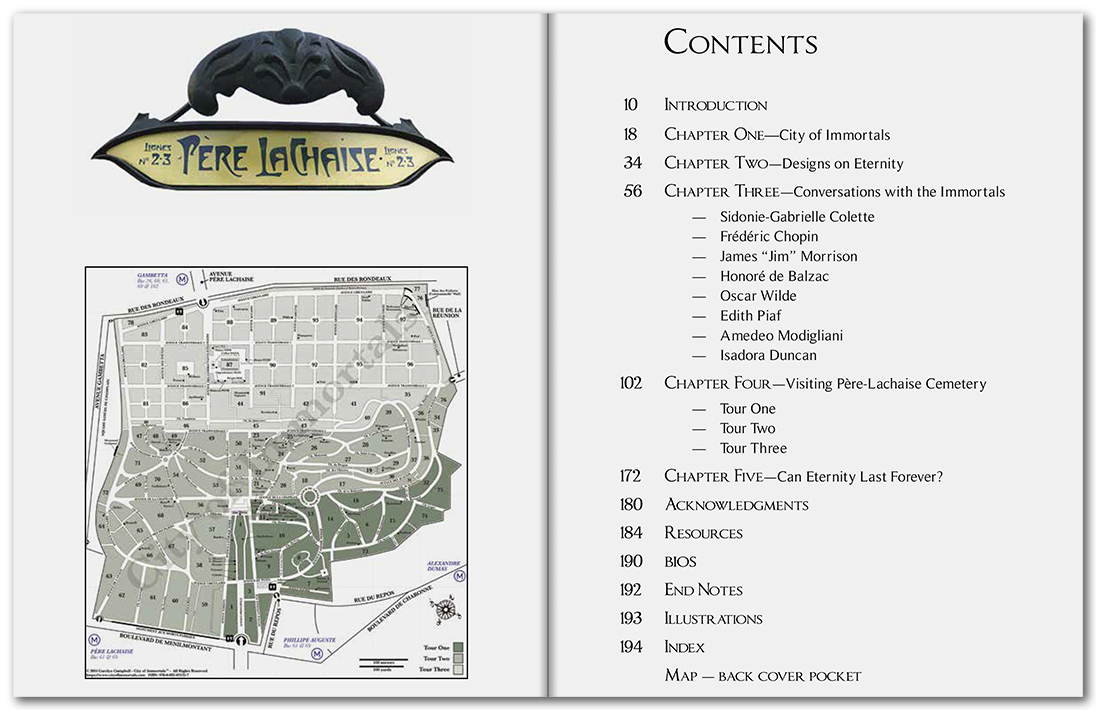 Includes Detailed Pull-out Map
"It is indispensable for anyone who wants to truly get their mind around this amazing maze of art and death. Thankfully, a passionate American has set her laser focus on these 107 acres of corpses and copses…. Carolyn Campbell's well-thought-out map measures 16″ × 18″ and features NO SMALL TYPE!"
—Laurie Pike, editor, The Paris Blog
---
Photo Highlights from the Book
What People Are Saying…
"In City of Immortals, Carolyn Campbell gives readers three books in one: a personal dialogue with the immortals, a scholarly history of funerary architecture and design, and an intimate tour of the world's most famous cemetery."
—Michael Webb, author of more than 20 books on modern architecture and design, including Moving Around: A Lifetime of Wandering
---
"The artist's voluminous work is a gorgeous collection of words and images that captures the awe of the place, its legacy, its grace, its sense of peace and mystery."
—Genie Davis, art critic, Art and Cake magazine
---
"Everything that makes Paris so rich in memories is distilled in the hundred acres of Père-Lachaise Cemetery, where the dead come to life."
—Michael Webb, architecture and design author and contributing writer, Form magazine
---
"Los Angeles–based art impresario Carolyn Campbell has collected an archive of photographs and source images, plus three decades of sketches, maps, and research, to create City of Immortals, a map and legend of the whole of the Père-Lachaise Cemetery, with a special focus on the artists, writers, and musicians interred throughout its 107-acre grounds. City of Immortals is not only beautiful but helpful. Père-Lachaise is the final resting place of Sarah Bernhardt, Frédéric Chopin, Eugène Delacroix, Edith Piaf, Marcel Proust, Gertrude Stein, Isadora Duncan, Oscar Wilde and, somehow most famously, Jim Morrison. It's a great place to visit—but a tough place to find your way around. Though, as Campbell is quick to point out, 'Sometimes getting lost can be as rewarding as arriving at your intended destination.'"
—Shana Nys Dambrot, arts editor, L.A. Weekly
---
Order the book at…


WeHo Reads
Book Launch & Signing Party
WHEN:
Tuesday, October 29, 2019, 7:00 P.M.
WHERE:
City Council Chambers at
West Hollywood Library
625 N. San Vicente Blvd.
West Hollywood, CA 90069
Just in time for Halloween! The author's talk will include a slideshow, a Q&A, a raffle of a free book, and giveaway souvenir photos to people who show up in costume dressed as someone buried at the cemetery. A book-signing will follow, with books available for sale by Book Soup. Sponsored by City of West Hollywood's Arts Division.
Learn more & RSVP
---