Spring has sprung! Another season is upon us as we navigate the possibility of travel in 2021. To enliven this seasonal experience, though virtual, I have selected images taken on a trip to Père-Lachaise in spring of 2018 proving that nature provides a much needed balm after a long, stay-at-home winter.
No cemetery offers a more rewarding experience or is more historically significant than Père-Lachaise in the far eastern section of Paris—one of the most idyllic places – a forest, really. With 5,000 trees along its winding paths, it's the largest public green space in the city. In the fall, it is a festival of color with the sounds of songbirds overhead. In spring, however, chestnut blossoms carpeting the grounds (and visitors) and filling the air with a sweet fragrance is an indescribable experience. A celebration of nature's awakening from its winter slumber. It brings to mind a favorite quote by Honoré de Balzac who is buried there, "I seldom go out, but when I feel myself flagging I go out and cheer myself up in Père-Lachaise…while seeking out the dead I see nothing but the living."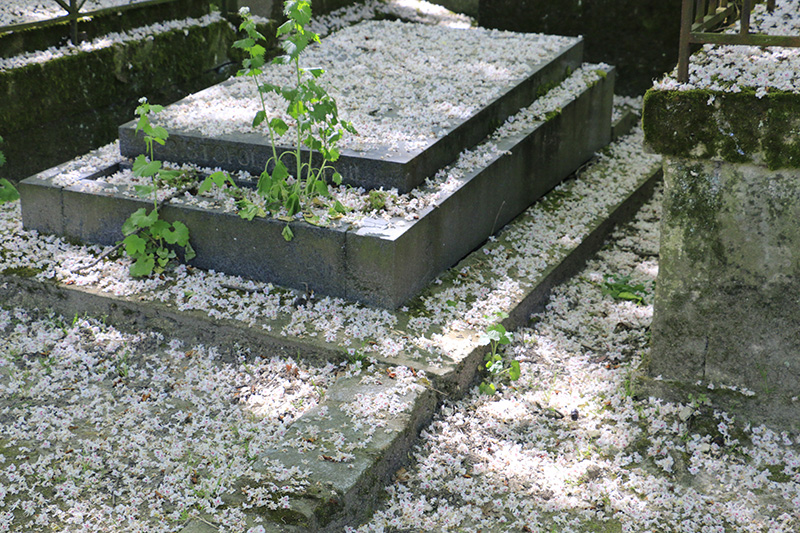 Fall is the prime season to take photographs, imo; the yellow and orange leaves sharply contrasting with solemn gray tombs and iron railings, plus the unique Paris light filtering through latticed trees above. Nonetheless, when I made the trip to Paris one spring, to my delight there were breathtaking flower beds planted by the cemetery's gardeners, as well as irises and daffodils blooming at well-tended grave sites. In addition, there was the lush foliage from the trees on the 107-acre site, including acacia, maple, beech, ash, lemon and chestnut. Père-Lachaise is, after all, the foremost garden-style cemetery in the world and was the model for all European and American cemeteries from the 19th century onward.
No previous architect or landscape designer had been assigned such a vast and unprecedented undertaking— the first proper burial area for individual grave sites to be created outside of a churchyard. In conceiving the cemetery's design, the landscape architect Alexandre Brongniart maintained the garden-like setting of the former country retreat of The Sun King, Louis XIV's confessor, Father LaChaise.
The following is a visual stroll for your viewing pleasure. Breathe…
All photos ©Carolyn Campbell